Many moms have grand plans of chronicling the life of their new baby. But when your days are full of diaper changes, feedings, laundry, stroller walks, and sneaking in some "me" time, that baby journal easily gets overlooked.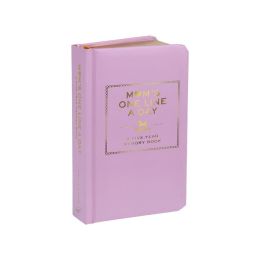 Before my baby was born, a friend got me this great book,
Mom's One Line a Day
. Just like the title says, all you have to do is write one line to document that day. So, since it takes all of 12 seconds to jot down a one-liner, it's easy to keep up.
"Today you had your first bath. You hated every second of it and Mommy cried."
"You met your great grandparents and went to your first happy hour at their hotel."
"The Nap Nanny that you love to sleep in was recalled. Shit."
"You did Tummy Time for 15 seconds. We took 45 pictures."
Good times.